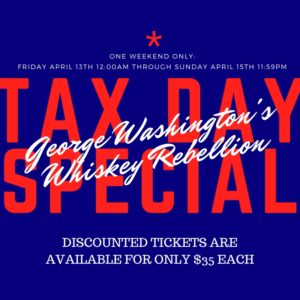 Take part in this year's WHISKEY REBELLION TAX DAY SPECIAL happening FRIDAY APRIL 13TH, 12 AM THROUGH SUNDAY APRIL 15TH, 12 PM.
Tickets purchased during tax weekend will be at a discounted price of $35.This price is only available online.
The tickets include whiskey tastings from more than a dozen regional distillers, an open bar, great food, colonial pub games, and a visit from George Washington himself.
Use the link on the home page, or on our Facebook page.
GEORGE WASHINGTON'S WHISKEY REBELLION – BROUGHT TO YOU BY THE COMMUNITY TRUST FOUNDATION